Please our Store Info page for Payments, Shipping, Handling, &
DX ordering

.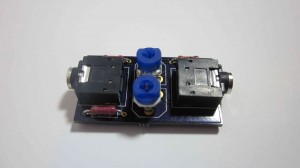 Interested in listening to HF Digital modes such as PSK31, CW, JT65, Weather Fax, SSTV and others?  Have an older digital interface which does not include the receive side audio attenuator cable?  This Audio Attenuator board is designed to be placed in between the radio audio output headphone jack and the Microphone PC input.  Designed by WA8LMF, the attenuator provides a 50:1 reduction creating a safe input to the PC microphone connection to prevent overloading.   The version 2 design uses 2 trimmers for adjustable attenuation.   More information can be found here.
Kit includes 2 stereo cables (random colors) with 3.5mm ends and fish bone cable winders.
Audio Attenuator V2 Kit
Item: AA     Weight: 2oZ