Welcome to 3rd Planet Solar
& the shack of KC9ON
 Want to know more about Amateur Radio, QRP, or HF Digital Modes?
Visit the Ham Radio page for Amateur Radio information and links!
---
2017-02-21
2017-01-25
2017-01-25

The USPS had increased rates again 🙁

Please see our Store Information page for new rates.

2017-01-24

| | | |
| --- | --- | --- |
| FT23-43 Toroids | 5mm Red LED | 7806 6V TO-220 Regulators |
| MC145051 10-bit ADC | SP232 RS-232 Drivers | 40-pin Dip Sockets |

 
2017-01-24
2017-01-08

Prototoids Worksheets are available for downloading

2017-01-02

3CPO Kits are back in stock!

2016-12-07

*** 7110 HC49s Crystal are back in stock ***

*** NEW FREQUENCIES ***

7035   7045   7048   7060  &  14048

(and we are working on 6M frequencies next)

 
2016-11-20

HW-8-MC1496 Adapters are back in stock!

 
2016-10-27
2016-10-25
2016-10-22

HW-8-LM386 audio kits are back in stock!

2016-10-13

HW-8-TR QSK T/R replacement relay boards are back in stock!

2016-06-15

New parts added

IRFL110 MOSFET, Terminal Blocks, 0805 SMD Resistors and Caps, 1/4W resistors

2016-06-04

Shack Cleaning time and we have a bunch of [almost] FREE books that need to go!

2016-05-30
 2016-04-13

100KHz-1.7GHZ Software Defined Radio Kit

 
 2016-04-12

Surface Mount Version

are now available!

 
 2016-04-10

are now available!

 
 2016-04-09

Mini-Yack – Iambic keyer & trainer

(little brother of 3CPO)

are now available!

 
 2016-04-08

Prototoids Prototyping PCB's are now available!

 
 2016-01-30
 Full Reverse Polarity Protection article from the T5W exerpts can be found here.
---
What's 3rd Planet Solar all about?  Check it out in the About section.
Bagging a CALF herd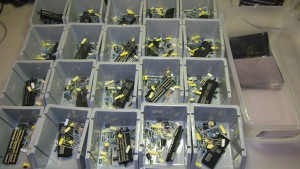 ---
A few pictures of the shack:
| | | |
| --- | --- | --- |
| | | |
| Once in a lifetime event – The bench is clean! | 2016 Shack Upgrade | The happy trio – HW-8, CALF, and 3CPO |
The gear consists of an Icom IC-725 and MFJ 949D tuner/meter as the primary HF station with a Bencher and 3CPO for CW.  The old TRAC keyer still works but mostly retired now.  The main antenna is a simple 40M bowtie dipole which works pretty good on all bands.  Lately my Heathkit HW-8 has taken center stage pretty much replacing the IC-725.  Since my first HW-8 there is now a HW-7 and another HW-8 for camping.
The 2M primary station is an IC-251H with killer audio and RF output.  For Satellite and ISS work a Yaesu FT-290RII and Kantronics KAM fills the bill.  Yes, you can work the Space Station on just a watt or two and a simple vertical antenna!
When home-brewing and repairing we also use some fairly older equipment.  Heathkit IG-1271 signal generator, B&K 512MHz frequency counter, Philips 100MHz scope, Autek WM-1 RF/SWR meter, Heathkit IM-1210 DMM, Ramsey COM3 service monitor, Bird Wattmeter (that I always want more slugs for!), a few handheld DMM's, my Digital Dummy Load, bench vise, and of course a Tenma solder reworks station.
Not pictured of more old equipment I pull off the shelf from time to time to play with.  A Kenwood TS-520 (under restoration), TS-530, Heathkit HW-16, HW-7, 2nd HW-8, HW-101 (under restoration), and my first rig an old Hallicrafters HT-17 (also under restoration).
Thanks for stopping by and 73!
John kc9on