Welcome to 3rd Planet Solar
& the shack of KC9ON
 Want to know more about Amateur Radio, QRP, or HF Digital Modes?
Visit the Ham Radio page for Amateur Radio information and links!
2016-06-15

New parts added

IRFL110 MOSFET, Terminal Blocks, 0805 SMD Resistors and Caps, 1/4W resistors

2016-06-04

Shack Cleaning time and we have a bunch of [almost] FREE books that need to go!

2016-06-04
2016-05-30
2016-05-15
2016-05-14

contains 1 of every frequency we carry – 22 Crystals in all!

QRP/SKCC/Digital and other packs also available

2016-05-11

VOTE for the next new batch of crystal frequencies this fall.

2016-04-30
2016-04-13

100KHz-1.7GHZ Software Defined Radio Kit

2016-04-12

Surface Mount Version

are now available!

2016-04-10

are now available!

2016-04-09

Mini-Yack – Iambic keyer & trainer

(little brother of 3CPO)

are now available!

2016-04-08

Prototoids Prototyping PCB's are now available!

2016-04-03

3.535     3.550     3.560     7.040     7.070     10.140

14.050      14.060     21.050     21.060

Now Available

2016-03-02
Download the Catalog-2016-Spring
2016-01-30
Full Reverse Polarity Protection article from the T5W exerpts can be found here.
2015-12-08
Reviews of the Chinese 49er and Manual Days Antenna Tuner are on the bottom of the Chinese QRP Kits page.
2015-11-05
HW-8-MC1496 Adapters are back in stock!
2015-11-03
 HW-8-TR QSK Relay Replacement kits are back in stock!
2015-10-30

Enclosures for 3CPO are now available!

2015-10-04

A fresh batch of HW-8-LM386 Audio Amplifier boards are back in stock.

2015-09-04

3CPO the Code practice oscillator, keyer, and Iambic training is back in stock!

2015-08-16
USBTinyISP adapter boards are back in stock!Use this adapter along with a USBTinyISP type programmer to easily program Arduino AtMeta328 and AtTiny85 IC's.  Or use as a stand along Arduino Bare Bones board.
2015-07-14

EXTRA! EXTRA! Read All About it!

CALF Published ARTICLE from the QRPARCI April 2015 issue of The QRP Quarterly now available!

2015-06-07

CALF versus NESCAF Smackdown!  We compare the CALF active op amp filters against the NESCAF switched capacitor filters.  Read the article and Listen to the audio samples in the CW Reception page.

2015-05-30

3.5mm stereo cables now include fish bone winders!

Visit the Cables and Adapters page for more.

2015-05-27

Audio Attenuator kits are back in stock!

2015-05-15

NEW

Stereo to Mono adapters.  See our Cables & Adapters page for details.
---
What's

3rd Planet Solar

all about?  Check it out in the About section.
---
Bagging a CALF herd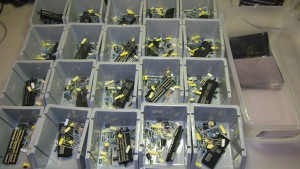 ---
A few pictures of the shack:
| | | |
| --- | --- | --- |
| | | |
| Once in a lifetime event – The bench is clean! | 2016 Shack Upgrade | The happy trio – HW-8, CALF, and 3CPO |
The gear consists of an Icom IC-725 and MFJ 949D tuner/meter as the primary HF station with a Bencher and 3CPO for CW.  The old TRAC keyer still works but mostly retired now.  The main antenna is a simple 40M bowtie dipole which works pretty good on all bands.  Lately my Heathkit HW-8 has taken center stage pretty much replacing the IC-725.  Since my first HW-8 there is now a HW-7 and another HW-8 for camping.
The 2M primary station is an IC-251H with killer audio and RF output.  For Satellite and ISS work a Yaesu FT-290RII and Kantronics KAM fills the bill.  Yes, you can work the Space Station on just a watt or two and a simple vertical antenna!
When home-brewing and repairing we also use some fairly older equipment.  Heathkit IG-1271 signal generator, B&K 512MHz frequency counter, Philips 100MHz scope, Autek WM-1 RF/SWR meter, Heathkit IM-1210 DMM, Ramsey COM3 service monitor, Bird Wattmeter (that I always want more slugs for!), a few handheld DMM's, my Digital Dummy Load, bench vise, and of course a Tenma solder reworks station.
Not pictured of more old equipment I pull off the shelf from time to time to play with.  A Kenwood TS-520 (under restoration), TS-530, Heathkit HW-16, HW-7, 2nd HW-8, HW-101 (under restoration), and my first rig an old Hallicrafters HT-17 (also under restoration).
Thanks for stopping by and 73!
John kc9on
---
Get your NASA boarding pass to Mars: