Welcome to 3rd Planet Solar & the shack of KC9ON
 Want to know more about Amateur Radio, QRP, or HF Digital Modes?  Visit the Ham Radio page for Amateur Radio information and links!
---
1/4/18

*** HEADS UP!  USPS SHIPPING RATES INCREASING ***

USPS will be increasing postage rates Effective January 21st.

This impacts both domestic and international rates.

2017-11-29

20/20pF and 60/140pF varieties are now in our Odds & Ends page.

2017-11-17
2017-11-16
2017-10-19

Coming in December

New HC49U (TALL) Crystals

3535KHz 3550KHz and 7110KHz

Stay tuned……..

2017-08-22

*** Kanga UK products are now in stock ***

*** M0TGN Morse Tutor ***

*** DX40 DC Receiver ***

*** Urmston Regen Receiver ***

 
2017-09-10

Pixie with Pixie Switch and 3 extra Crystals

 Simple Test Equipment kits

Audio Spectrum and volume display kits

Solder practice and learning kits

and more…..

2017-09-09
2017-09-08

Available in 3560, 7030, 7040, 7055, and 7118KHz

3560 works with the Cricket!  Great for VXO's!

2017-09-08

Want to try surface mount soldering?

Don't want to start with a big project and tiny parts?

This dummy load uses larger 1W "2512" style resistors for your first SMD project.

Usable up to 225MHz with an SWR of less than 1.3:1 and up to 20W intermittent.

2017-08-01
2017-07-27
2017-04-10

A new herd of CALF is in stock

2017-03-04

Get more mileage out of your Crystals.

Pull them 10-20-30KHz+ !  Click here for the article.
---
---
What's 3rd Planet Solar all about?  Check it out in the About section.
Bagging a CALF herd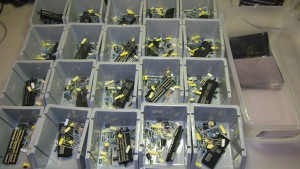 ---
A few pictures of the shack:
| | | |
| --- | --- | --- |
| | | |
| Once in a lifetime event – The bench is clean! | 2016 Shack Upgrade | The happy trio – HW-8, CALF, and 3CPO |
The gear consists of an Icom IC-725 and MFJ 949D tuner/meter as the primary HF station with a Bencher and 3CPO for CW.  The old TRAC keyer still works but mostly retired now.  The main antenna is a simple 40M bowtie dipole which works pretty good on all bands.  Lately my Heathkit HW-8 has taken center stage pretty much replacing the IC-725.  Since my first HW-8 there is now a HW-7 and another HW-8 for camping.
The 2M primary station is an IC-251H with killer audio and RF output.  For Satellite and ISS work a Yaesu FT-290RII and Kantronics KAM fills the bill.  Yes, you can work the Space Station on just a watt or two and a simple vertical antenna!
When home-brewing and repairing we also use some fairly older equipment.  Heathkit IG-1271 signal generator, B&K 512MHz frequency counter, Philips 100MHz scope, Autek WM-1 RF/SWR meter, Heathkit IM-1210 DMM, Ramsey COM3 service monitor, Bird Wattmeter (that I always want more slugs for!), a few handheld DMM's, my Digital Dummy Load, bench vise, and of course a Tenma solder reworks station.
Not pictured of more old equipment I pull off the shelf from time to time to play with.  A Kenwood TS-520 (under restoration), TS-530, Heathkit HW-16, HW-7, 2nd HW-8, HW-101 (under restoration), and my first rig an old Hallicrafters HT-17 (also under restoration).
Thanks for stopping by and 73!
John kc9on
Visitors: 94045    Views: 221628